Voici un article extrait de la revue Messenger of Saint Anthony, édition internationale, du mois de
novembre 2008. Texte en anglais.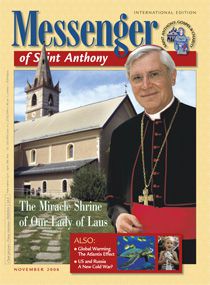 Couverture de Messenger of Saint Anthony, novembre 2008

Lien vers l'article en ligne :

The Laus Shrine
An exclusive interview with Bishop di Falco Léandri who has recently secured the Church's recognition of the supernatural nature of the revelations given to a French
girl over 300 years ago
by Renzo Allegri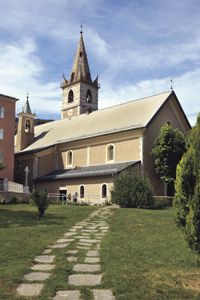 The Shrine of Our Lady of Laus draws over 120,000 pilgrims every year
AT A SOLEMN ceremony celebrated on Sunday, May 4, 2008, in the Basilica of Notre Dame in Laus, the Bishop of
Gap and Embrun, Monsignor Jean-Michel di Falco Léandri, announced the official approval of the Church of the Marian apparitions given to a young shepherdess, Benoîte (Benedicta) Rencurel, an
event that took place in Laus, close to Avançon, in the Hautes-Alpes south of France, between 1664 and 1718.
Some 6,000 faithful and more than 20 bishops and cardinals attended the Mass at the shrine, which draws over 120,000 pilgrims each year, including the Apostolic Nuncio to France, Archbishop
Fortunato Baldelli.
"I recognize the supernatural origin of the apparitions, and the facts experienced and recounted by Benoîte Rencurel. I encourage the faithful to come and pray and seek spiritual renewal at this
shrine," Bishop di Falco Léandri said.
The Bishop emphasised the historic nature of the announcement (the first Marian apparitions to be approved by the Church in France since the 19th century), and his words were reported by all the
major newspapers and television channels in France. With this approval, the cause for the beatification of Benoîte has been speeded up.
Unique setting
The Shrine of Our Lady of Laus is situated at 900 meters above sea level amid breathtaking mountain scenery. The shrine, though still relatively unknown, has a growing body of devotees,
especially among the young.
French philosopher and theologian Jean Guitton, one of the greatest representatives of modern Catholic thinking, wrote, "The Shrine of Laus is one of the most hidden and also most powerful
treasures in the history of Europe".
The apparitions began in May, 1664, when Benoîte Rencurel, an unschooled 16-year-old-shepherdess saw "a dazzling lady" standing on a rock, holding a no less beautiful child in her
arms.
Benoîte had learned suffering early in life as she was born into extreme poverty, which was made worse when her father died when she was only seven. Creditors were unrelenting to
Benoîte's widowed mother, and so her children had to labour to maintain the family. Benoîte was not only a help, but a protection for her mother, who had faithfully taught her children all the
traditional Catholic prayers, including the Rosary, Benoîte's favourite devotion.
By the time Benoîte was twelve, the family was in even worse straits, so she took employment tending sheep for two masters at the same time. It was therefore in the bosom of deprivation,
sacrifice and prayer that the future saint was preparing for her predestined mission.
On that day in May Benoîte had led her flock to pasture at the Vallon des Fours (Valley of Kilns), when she noticed a beautiful Lady with a child by the hand. Since they were near the limekilns,
she asked the Lady if she wished to buy lime. After a while, without answering the girl's question, the Lady disappeared, but she reappeared on successive occasions for two months, always without
speaking.
After some time, the Lady told Benoîte to walk up to a plateau called "le Laus", which is the Latin word for 'praise', and said to her, "My daughter, walk up to the Laus. There you will
find a chapel where you shall smell a nice perfume". The following day Benoîte climbed up the mountain crest towards the Laus and, led by the perfume, was able to find her way to the chapel. The
building was dedicated to Notre Dame de Bon Rencontre (Our Lady of Happy Meeting), and was in a dilapidated condition.
The girl opened the door, and found Our Lady waiting there on a dust-covered altar. The heavenly figure said to her, "It is my desire that a new chapel be built here in honour of my beloved son.
It will become a place of conversion for numerous sinners, and I shall appear here very often".
The current Shrine of Our Lady of Laus rises where that chapel used to stand.
A mysterious perfume
For 54 years, Benoîte had apparitions of Mary, of angels, and of Christ crucified. At first they occurred on a daily basis, then less often. In 1672 Benoîte moved to Laus in a small dwelling
close to the shrine that can still be visited today. The seer spent hours and hours within those walls in deep prayer and meditation, and there she received instruction from the Virgin Mary.
Benoîte died in 1718, and was buried in front of the main altar of the shrine.
The supernatural, however, is still very much at home in Laus. That mysterious perfume, for example, that guided Benoîte to the original chapel, still encompasses the area. It is a delightful
fragrance which can sometimes be perceived around or within the shrine, but only to a few. This inexplicable phenomenon, which has so far baffled science, can sometimes even be perceived by
sceptics, and has given rise to numerous scientific examinations.
Our interview
Bishop di Falco Léandri has great devotion to the Shrine of Laus, and claims he has received a great spiritual grace from the shrine.
A learned, dynamic bishop, di Falco Léandri is a well-known figure in France. He has a degree in Philosophy, and has directed the Higher Pedagogical Institute at the Catholic
Institute of Paris. He is the president of the European Episcopal Committee for the Media (CEEM),and a consultant for the Pontifical Council for Social
Communications
After his instalment as bishop of Gap in 2003, di Falco Léandri immediately set to work to obtain the possibility of officially recognising the supernatural nature of the apparitions of the
Virgin at Laus. He commissioned a panel of experts, which included René Humetz, a renowned French judge, to collect all the documents relating to the apparitions, and then forwarded them to the
Vatican. The documents were examined in detail, after which the Vatican allowed him to declare the apparitions genuine and authentic.
We interviewed Bishop di Falco Léandri, who was only too happy to share his enthusiasm for the Laus shrine with the readers of the Messenger of Saint Anthony.
Bishop di Falco Léandri, what treasures does the Laus shrine contain for the modern visitor?
At the heart of the message given to the Venerable Benoîte Rencurel is a conversion of soul which aims to bring full reconciliation with oneself, with others, and with God. There is no clear cut
distinction between these three forms of reconciliation; they are interdependent, that is, no one of them can exist without the other two. Love of oneself divorced from love of others becomes
selfish and narcissistic. On the opposite end, however, love of others divorced from love of oneself tends to be suicidal, while those who believe they love God without loving others are simply
lying to themselves: "If anyone says, 'I love God,' but hates his brother, he is a liar; for whoever does not love a brother whom he has seen cannot love God whom he has not seen," says Saint
John in chapter 4 of his first letter.
The answer Christ gave when He was asked which was the greatest commandment of all was that we should love our neighbour as ourselves, and God above all. Many people are always preaching 'love
thy neighbour' and 'love God', but almost never 'love thyself'! Now, the measure of love which God gives us is the same measure of love we have for ourselves. To bring about self-reconciliation
it is necessary to see ourselves as God sees us, and to accept ourselves as we are. This involves recognising the gifts he has given us, and also those rather unpleasant aspects of our
personality. When we have done this, we are ready to accept others for what they are, with all their strengths and weaknesses.
What are the most important initiatives promoted by the Shrine?
Laus is a centre of spirituality that desires, above all, to place itself at the service of reconciliation in the broadest sense possible. Our pastoral initiatives are aimed at bringing people to
a reconciliation with oneself, that is, with one's own body, with one's own temperament, with one's own psyche, with one's own family members, and finally with God in the Sacrament of
Reconciliation. "Let yourself be reconciled!" this is the message of Laus. "Let God approach you, for this God is capable of only one thing, and that is to love".
The Laus Shrine is located in an area of greater natural beauty than most other Marian shrines. Do you think it will become one of Europe's great spiritual centres, where spirit and nature
embrace each other?
Every Catholic shrine has it own specific nature and specialisation, so the Laus shrine has no wish to compete with either Fatima or Lourdes, or with any other shrine. The specific nature of this
shrine is that it contains the ideal conditions for a reconciliation between man and nature. It was in these mountains that Dom Chautard, the renowned monk who wrote The Soul of the
Apostolate (a book which was found on Pope John Paul I's bedside table after his death), made the experience of God's invisible but real presence in His creation. A presence of power,
immensity, tenderness and goodness beyond measure. How will we use this creation that God has given us? The Laus shrine brings home to us our responsibility as co-creators.
The revelations Benoîte received lasted for 54 years. At first they were silent apparitions, but they later became simple and brief dialogues. Do they not induce us to privilege
contemplation over activity, to simply listen to His voice in the silence of our souls?
What I find particularly interesting about Benoîte Rencurel is that the apparitions urged her to commit herself in ever greater measure in her immediate social circle. She did not dream her life,
she lived it to the full. The Virgin Mary was her real educator in this sense. She encouraged her, thanked her, and even rebuked her at times. Through her guidance, contemplation was constantly
being transformed into action.
Most of the times the Virgin Mary gave her information about the inner psychological state of the pilgrim who approached her. She urged Benoîte to communicate certain things to the pilgrim that
would not increase his or her burden, but lead them to conversion. She both revealed the dangers they were running into, and how to avoid them. The Virgin Mary never showed Benoîte a future that
was unalterable. Her revelations were warnings, and gave impulses to change things for the better.
When you became Bishop of Gap you immediately set about advancing her cause. Do you think she will eventually be beatified?
The process was begun in the 19th century, and she was eventually proclaimed Venerable by Blessed Pope Pius IX in 1872. The next phase, the one leading to beatification, was suspended in
1913.
Unfortunately, human sciences were not as evolved in those days as they are now. The stringent criteria which distinguish supernatural facts from historic facts were not yet developed.
Fortunately, Father de Labriolle was able to set the cause in motion again, and Pope John Paul II authorised the cause to continue again in 1981.
Benoîte's fame, rather than diminishing, is actually growing as time goes on. Laus remains a place of conversions, healings are no rare occurrences here, and the peculiar phenomenon of this
shrine, that is the inexplicable perfumes, are continuing. When I became bishop of Gap I simply continued what my predecessors had initiated.
As explained in my book on Benoîte Rencurel, soon after my instalment as bishop I called a number of specialists, and asked them to study all the documents pertaining to her. The meeting room
where the gathering was held had an unpleasant odour of mildew, when all of a sudden I began to smell a strong perfume similar to that emanated by holy oils. Surprised, I asked those sitting
around the table if they could smell anything, but they all said "No"! When I was least expecting it, I had received this grace from Our Lady of Laus, and I was in this way led to recognise the
supernatural character of the revelations given to Benoîte. I have to add that I am rather sceptical in these matters, so I find that God certainly has a sense of humour!
What peculiarities in the spirituality of Benoîte do you find most appealing?
What I admire most about Benoîte is her capacity to weave together certain virtues which appear contradictory. She is able to inspire equally those who believe in God and those who do not believe
in Him. She belongs to that royal line of shepherdesses like Saint Geneviève, Joan of Arc and Bernadette who fascinate the historian. They are humble women with an ardent love of God and a free
spirit who avoid the proud and dedicate their lives to a spiritual cause. What the agnostic Mark Twain says of Joan of Arc's gaze in his book Personal Recollections of Joan of Arc, can
be equally applied to Benoîte's simple language, "[She had] a glance that could convict a liar of his lie and make him confess it; that could bring down a proud man's pride and make him humble;
that could put courage into a coward and strike dead the courage of the bravest; that could appease resentments and real hatreds; that could make the doubter believe and the hopeless hope again;
that could purify the impure mind; that could persuade…"
(PCCS) at the Vatican.
____________________
© 2008 PPFMC Messaggero di S.Antonio Editrice
Via Orto Botanico, 11 – 35123 Padova (Italy) – P.Iva 00226500288

____________________